Types of Kitchen Lighting Which Will turn Your Abode Attractive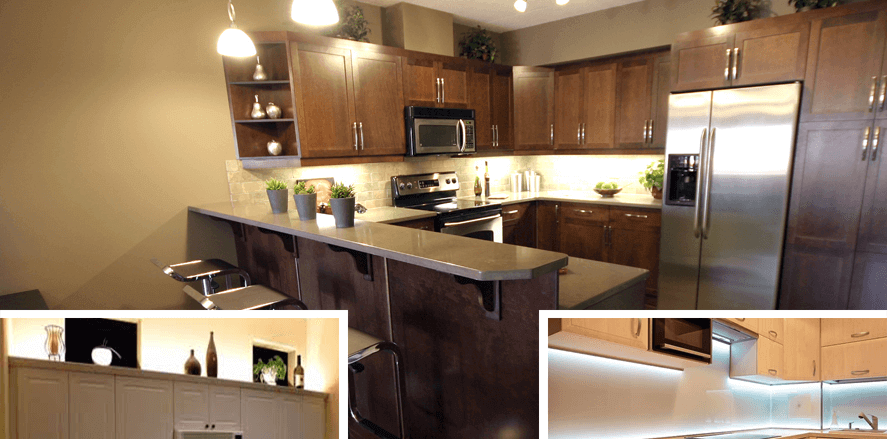 The kitchen is one of the most important places in the house. Moreover, it is a place where everyone will gather when entertaining, so it is imperative that the lighting is both task-oriented along with being friendly and warm. Avoid light which is overtly bright. Also, all fixtures should be dimmable so the light can be adjusted to meet specific needs. Scroll down to unravel the two types of lighting which will accentuate the look of your kitchen!
Above Cabinet LED Lighting
Above cabinet lighting is an effective yet beautiful solution for those who love the healthy, generous glow and sleek look of indirect lighting designs. Attach versatile, discreet LED strip lights to the top of any cabinet to provide a beautiful indirect light source without any visible wires or components. Additionally, get an indirect lighting in the kitchen which also adds quality. Many top designers are opting for these lights because they are both contemporary and tasteful.
Under Counter LED Lighting
Popular in bars and restaurants, the technique of under counter LED strip lighting is also becoming common in home kitchens. After installing under counter lighting, many satisfied clients rave about the personality and warmth they added with this simple installation. LED strip lights come in a variety of colors and light temperatures and make a great match for the lighting needs of any kitchen lighting plan. The light provided by the warm white LED strips is perfect for bringing family and friends together into the heart of a home.
More News
Show Countdown
LED Expo Thailand
days
Hours
Minutes
Seconds