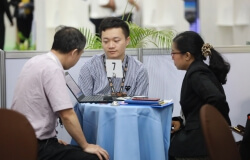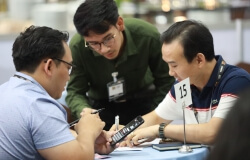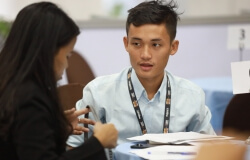 What is the Buyer Programme?
The Buyer Programme is a unique component of our show that provides top-level buyers, an opportunity to meet with the exhibitors of their choice for focused one-to-one appointments.
Qualified buyers will receive complimentary accommodation and many other benefits.
Professional Business Matchmaking Service
Connect with targeted local/international suppliers
Plan all your business meetings in advance and save time
Customize your meeting schedule to suit your needs
Meet face-to-face with decision makers in the comfort of our designated meeting space
Network & build strategic alliances
WHO CAN APPLY?
Buyer Programme is available for the local and overseas eyewear professional and the following criteria must be met.
BELONGS to one of the following titles:
Brand management
Finance
Planning & Design
Business development
Management
Product development / Innovation
Consulting / Advisory
Marketing / Advertising / PR
Purchasing / Procurement / Buying
Corporate management
Operations
Research / Scientific / Analytic
Sales & Distribution
Testing / Quality assurance
REPRESENTING one of the following natures of business:
Consultant
Contract manufacturer
Distributor
Export
Import
Manufacturer
Limited Spots Available!
BENEFITS FOR VERIFIED BUYERS may include but are not limited to:
1 or 2 nights free accommodation at the designated hotel *for overseas buyers only
Airport – Hotel pick up and drop off service (available only for endorsed group promoter who bring in a minimum of 10 Buyers to the show)
Airfare subsidy *terms and conditions applied
Access and usage of the Business Matching System
Access to Business Matching Lounge (free drinks and snacks)
Opportunities to be listed on the show's website, social media platforms etc.
Upon application, each participant will be reviewed based on (but not limited to) the following criteria:
Annual purchasing budget.
Level of purchasing or decision-making authority.
Confirmed eligible visitors will be notified within 10 working days ONLY by the organizer's email.
*Remarks:
Exhibitors or non-buyer parties (e.g. media, students, institutions, etc.) are not eligible for the above program.
Only one person per company is eligible for this program.
IMPACT Exhibition Management Co., Ltd. reserves the right of final decision.
Benefits and program may be subjected to changes
For more information, please contact
International Buyer enquiries
Mr. Kalanyoo Ammaranon
Buyer Promotions Manager
Tel: +66 (0) 2-833-6339
Fax: +66 (0) 2-833-5127-9
E-mail: kalanyooa@impact.co.th
Local Buyer enquiries
Miss Waranya Moonkanha
Buyer Promotions Coordinator
Tel: +66 (0) 2-833-5324
Fax: +66 (0) 2-833-5127-9
E-mail: waranyam@impact.co.th