Transportation
Located in the suburbs away from the traffic congestion in downtown Bangkok.
IMPACT is:
30 minutes from downtown Bangkok via congest free expressways
45 minutes from Suvarnabhumi International airport via expressways
15 minutes from Don Mueang International Airport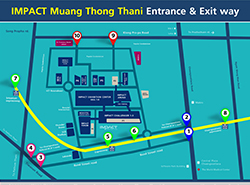 Hotels
Within 20 km radius of IMPACT, there are 12 hotels with over 3,000 rooms.
IMPACT Hotel – Our very own 4.5 Star hotel with 380 rooms. There is ideally located only 2 minutes from IMPACT Exhibition & Convention Center.