3 Bridges Illuminated by Philips Lighting Which Are a Visual Treat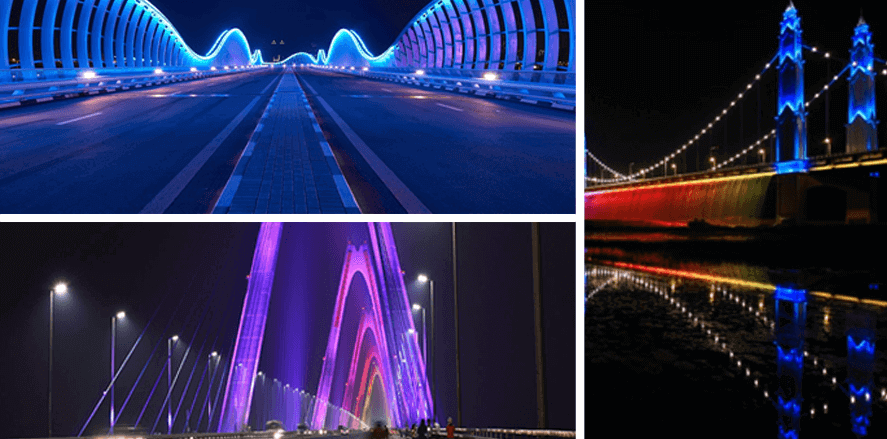 The LED lighting of an Architectural Marvel: The Meydan Bridge
Connecting the Meydan hotel to the main road, its undulating wave form and striking construction makes it a beautiful bridge. In order to enhance the prominence of this route and to produce an architectural landmark in the city, it was decided that the bridge should be illuminated. The solution was Philips Color Kinetics eColor Graze Powercore LED grazing fixtures, in royal blue. eColor Graze Powercore produced the requested shade of blue light while providing a maintenance-free and energy-efficient solution. The 2 ft (610 mm) fixtures perfectly matched the undulations of the bridge, making it easy to install in time for the Dubai World Cup.The Nhat Tan Bridge Shimmers with Architectural Lighting
Keeping in mind with the energy efficient and attractive LED system the Nhat Tan Bridge located in Hanoi, Vietnam has been illuminated by Philips colour Kinetics which can create 16.7 million colours. The architectural lighting illuminated the cables and the five spans and is also responsible for cutting the cost of maintenance and operation.China's Binhe Yellow River Bridge Sparkles with LED Lighting
Binhe Yellow River Bridge in Yinchuan, China has been illuminated by Philips Lighting's architectural LED lighting. Philips Lighting Colour Kinetics technology provides the lighting effects and can change up to 16.7 million colours. The technology used by Philips gives flexibility along with beautiful lighting effects. During the night, a water curtain is illuminated in rainbow colours which give the impression of a waterfall running beneath the bridge.
More News
Show Countdown
LED Expo Thailand
days
Hours
Minutes
Seconds